How to type Hangeul
Typing Hangeul on your computer or phone.

Last update on 28 Jan 2019
In this section you will learn how to write Hangeul on your computer and mobile phones.
Check out this video on YouTube that explains setting up the Korean keyboard in detail:
 Type Hangeul on your macOS
(Tested with macOS Mojave)
Click on the Apple logo () on the top left corner.
Click on System Preferences...
Click on Language & Region
Click on Keyboard Preferences
Go to the Tab Input Sources
Click on +
Now select Korean and then you can select between the following input sources.

2-Set Korean
3-Set Korean
390 Sebulshik
GongjinCheong Romaja
HNC Romaja

Select your preferred style and and click 'Add'.
Now this input source has been added as a keyboard setting. If you click cmd ⌘ + Space, you will see the option to switch between the different keyboard settings. Now you can just start typing.
Info: You can see on the preview-keyboard where the Hangeul characters will be placed. Choose the style that best fits you. My favourite Keyboard is HNC Romaja.
HNC Romaja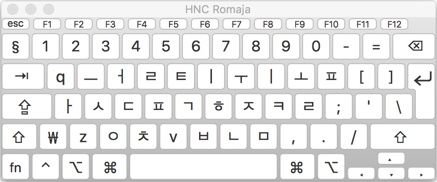 Below you can find some tips for the HNC Romaja keyboard setting:
To write ㄸ,ㅆ,ㅃ,ㄲ,ㅉ, you can either write ㄷ,ㅅ,ㅂ,ㄱ,ㅈ twice or press Shift + ㄷ,ㅅ,ㅂ,ㄱ,ㅈ.
If you press Shift + Vocal, it automatically adds the ㅇ before the vocal. For example, if you press Shift + a it will give you 아 directly.
To write ㅕ or ㅑ, first write ㅣ and then ㅓ or ㅏ
🖥 Type Hangeul on your Windows-PC (Win 10)
Open the Windows Settings
Search for Edit language and keyboard options
Click on Add A Language
Search for Korean and select it
Now in your status bar on the bottom right corner of your screen you can select the Korean keyboard. With the button right next to the Keyboard you can switch between English and Korean.
📱 Type Hangeul on your iPhone
(Tesed on iOS 11.2.6)
Click on Settings
Click on General
Click on Keyboard
Click on Keyboards
Click on Add New Keyboard...
Add the Keyboard Korean
Now you can switch to the Korean keyboard when your Keyboard is open by clicking on the globe (🌐) icon in the bottom left corner.
📱Type Hangeul on your Android Phone
(Tested on Samsung J2 Prime)
In a place where your keyboard is open, click on the Gear (⚙️) Icon on the left side of your space bar.
You should now be in the "Samsung Keyboard Settings"
Click on "Languages and Types"
Click on "Manage Input Language"
Add Korean 한글
Now when you go back to your keyboard, you should see two arrows on your space bar like this: < Space >
If you now swipe right or left on your space bar, your keyboard language should change
🎮 Time to practice!
As soon as you know how to type Hangeul on your keyboard, try out the quizzes below.